Las Vegas offline casinos
Category:
Blog
Author:

Helen Brown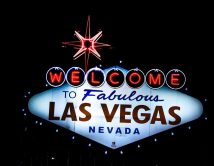 Las Vegas offline casinos in USA
It goes without saying that Las Vegas is the capital of gambling of the United States of America and, quite possibly, of the world. In this city in Nevada gambling life is as vivid as only can be and one can literally test its advantages and possible dark sides. The total number of the largest casinos in Las Vegas is now over 70 and the games on offer at these casinos is enough to drive you mad of happiness. Dozens of types of roulette, black jack, poker, slots and so on and so forth! No wonder every year this 'sin city' attracts millions of gambling fans from all around the world. Many of them get their share of luck too.
Top popular casinos of Las Vegas are the Treasure Island, Monte Carlo, New York Hotel Casino, Caesar's Palace, The Mirage and others.
Casino Treasure Island is one of the most luxurious and modern gambling houses in the city. Its total area is almost 30,000 square feet (8,800 square meters) and it is located in the 5 stars hotel on the Las Vegas Strip Boulevard. This gambling institution includes several huge rooms, where one finds literally any popular gambling game the world offers. The highlight of the casino is the pirate ship placed in front of the hotel's entrance. On this ship they give variety of shows for the casino visitors every day. The service at Casino Treasure Island is considered the best in Las Vegas and casino proves it by showing all the numerous awards it collected so far. Besides the gambling games, this casino also offers sports betting, horse races betting, and, of course, there is the great restaurant open almost 24/7.
Las Vegas casinos: moving on to play offline!
The New York Hotel Casino looks like the huge New York skyscrapers only located in the center of Las Vegas. In the fashionable hotel building they managed to locate a whole small city with many small shops, restaurants, malls, bars, and, of course, the casino (the area of which is about 25,000 square feet or 7,800 square meters). This gambling institution is includes several huge rooms too: slots room with 1,500 slots machines, live casino games room with 67 tables for different games, VIP rooms and so on. Each of these has its own magic atmosphere of excitement. One can visit New York Hotel Casino only if he or she is at least 21 years old. Same is true for any other casino in Las Vegas though. And if you want to get to the VIP room, you would need to contact the casino administration and reserve it first. This casino has been operating for over 15 years now and within this time it managed to gain the love and respect of visitors from all around the US and the world.

Caesar's Palace casino of Las Vegas
Caesar's Palace casino in Las Vegas intentions to copy the style of Roman Empire. And we must say, that this casino manages to do that quite successfully! This casino was opened back in 1966, but it still keeps one of the leading positions in Las Vegas gambling industry. Caesar's Palace is not just a casino. It is a huge entertainment center that includes countless restaurants, bars, cages, world-class SPA centers, tennis courts, the coliseum and, certainly, – the casino itself. Which, by the way, is one of the largest in the world. It is in Caesar's Palace where the planet's largest poker room is located with its 63 tables for playing different types of poker. On top of the casino games, one can place sports bets here too. Caesar's Palace is open clockwise and the bets there are not limited.

The Mirage casino in Las Vegas
To dive into fresh exotics one should visit the luxurious The Mirage hotel and casino. They do everything to make the visitors feel relaxed and comfortable there. Palm trees, waterfalls, the feel of tropic forest – everything in this casino is intentioned to make you feel relaxed and happy. The rooms in The Mirage are divided for the smokers and non-smokers, and the VIP rooms are as comfortable as they can be. At least once a year the casino hosts the World Poker Tournament.
Truth be told, it would be very hard to settle your choice on just one Las Vegas casino. They are so numerous and so different that you will feel simply obliged to visit as many as you can. We have no doubts that 90% of gamblers who visited Las Vegas once will want to come back there again and again.
If you want to play casinos in your own home, check online casino usa